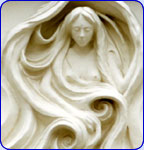 The Wave Goddess

Biography
Born in Vancouver, British Columbia, Zonailo attended ...

Poetics
CZ is a visionary poet who writes with compassion and careful detail about the world she lives in.

Publications

The Goddess in the Garden combines mystical insight and sensual language to evoke a timeless meadow where humans and deities play out eternal passions.

Reviews
She draws on her study of mythology, astrology, and Jungian psychology, for a seemingly inexhaustible source of imagery.

Interviews
There is a quality in her work which makes all her poems hers, but Zonailo's style does differ. Compendium is a collection of short, lyrical poetry; Zone 5 of prose. Each book is an extension of her poetic exploration and a separate expression.

Articles
Over the years of sitting in Grant's Cafe or the Europa and talking poetry with Lewis Gretsinger, the questions have been asked: why write? what are you saying? what are your poetics?

Poems
Last Will and Testament
I give my soul to God.
I give my body to the earth.
I give my poems to posterity.
I give my spirit to tolerance.
I give my mind to the future.

Forthcoming Titles

The Land of Motionless Childhood is a memoir of short stories by Carolyn Zonailo about growing up in Vancouver, and her Doukhobor heritage.

Français/Español

Photo Gallery

Pictures of CZ from her 20s, 30s, 40s and 50s.

Literary Papers
Spanning the years 1955 to 2005, the Carolyn Zonailo Papers holds, as nearly as possible, a currently complete collection of Zonailo's extant literary papers.